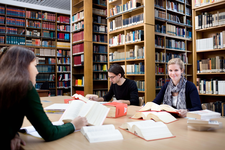 The library's entire collection can be searched via Cologne University's library catalogue. There is also a computer available at the library where you can search the online catalogue.
Students of the University of Cologne as well as other public universities and colleges in Cologne may borrow books from the library. However, the library is open to the general public as well. Guest have access to the entire collection, but may not borrow books.
Books can be loaned for 14 days; an extension is possible if the books are not reserved. Reference books (marked with red and green dots) can only be borrowed overnight or over the weekend.
Physical copies of journals may not be borrowed. There are available to be photocopied, however. Many journals are available in electronic form as well.
Please note the rules and regulations of the department's library.